Digital digest
SEO Camp'us 2023

: Search Generative Experience and the new "understanding" search engines
Posted by:
Fanny Desse
SEO Manager
Our experts were present at the last SEO Camp'us which took place on June 29 and 30 at the Palais des Congrès in Versailles. As every year, the conferences were very insightful. Here is what we observed, and what we think will soon be important for your brand's digital strategy.
Bard and Google Search Generative Experience are disrupting the SERPs
Artificial intelligence was obviously at the heart of the event with Google's Search Generative Exeprience* (SGE). With its Bard technology and the use of algorithms like MUM, Google's SERPs are turned upside down to the point where ranking first will no longer mean quite the same thing.
*Currently only available in the USA. Here is the Google Labs waiting list.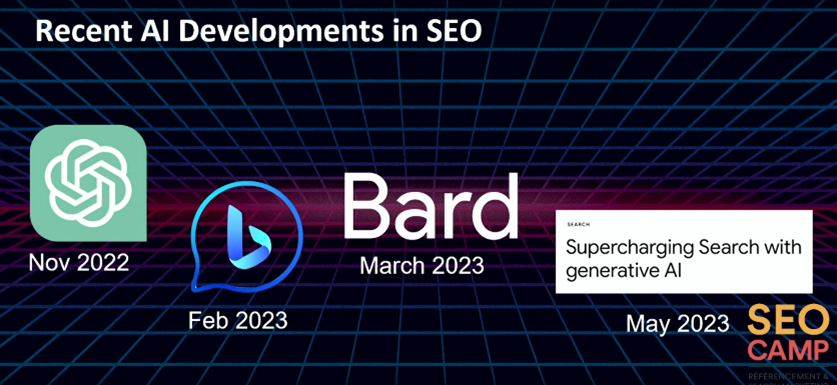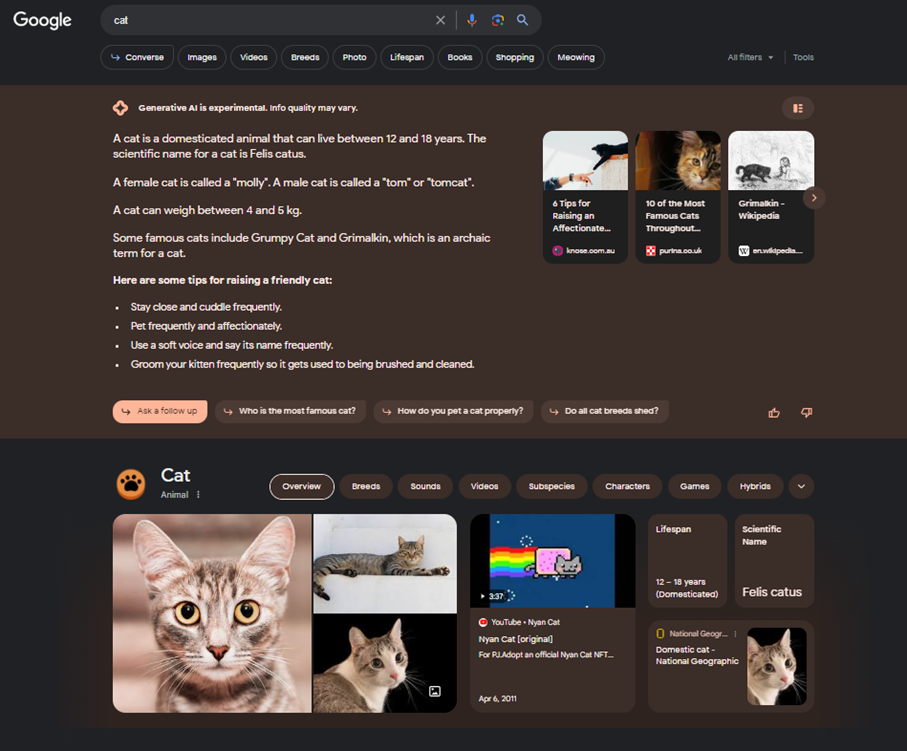 The SGE system offers results that are 100% tailored to the query: 
AI-generated text defining what a cat is, with examples of famous cats, tips for raising a cat 
Clickable questions allowing you to continue your journey (Ex: Who is the most famous cat?) 
Custom filters: cat breeds, cat videos, ... 
Other types of related information: scientific information, lifespan of the cat, etc.
This new type of display completely changes the way we will process information. From now on, we will no longer think in terms of "keywords" but in terms of "entities".
Google's goal will be to understand and anticipate the intentions of an Internet user and their search to always predict the types of information that may be useful or interesting to them. If Bard does a good job, the user may neither leave the search engine, nor visit a website. The results generated by AI being displayed at the top of the page, the organic links are relegated lower on the screen: being ranked 1st thanks to the blue links will therefore no longer bring in as much traffic.
SEO strategies must now take into account these new ways of presenting information into account. Your brand's goal will still be to remain recognized as a trustworthy source by Google, so it keeps using your information in SGE. Currently, Google does not even quote the sources of the answers it provides to users, but we expect this to be corrected soon as Bing is already doing that.
So, does this update sign the death of SEO?
Absolutely not! The search engine usage stats below can easily confirm it.
From search to deeper understanding
This development will set the bar ever higher for brands that want to be both visible and engaging. As Google is becoming an "understanding" engine rather than a search engine, more than ever necessary for companies to adopt a holistic vision of the paths and concerns of Internet users.
A web experience with added value
If you are lucky enough for the Internet user to still wish to visit your website after using Bard, you will then have to offer them a brand experience with high added value. If Google's SGE and BARD inform, the question will be to define what your ecosystem will bring more to your community.
Sharper content insights
Although it is difficult at first to monitor the visibility of your brand via Bard and Search Generative Experience, it will remain very important for you to be SEO efficient.
In addition to making sure your website is indexable, respecting the holy triptych of Technical / Semantic / Linking, you will also need to refine and update your understanding of all the possible search intentions for your key targets, in order to create the content that meets them and feeds Bard.
In retrospect, all of these changes lead to a main challenge : gathering and analyzing data related to your brand's content and turning them into actionable learnings. Today, major brands have access to large quantities of insights. However, they often struggle when it comes to conducting cross-analysis that can generate precise recommendations as to what performs best on a subject or with a target, on a specific touchpoint when it comes to the content or its format. 
If even web search is becoming an "experience", brands' digital ecosystems will increasingly have to offer something more to animate and maintain that relationship.