Brand protection - Performance - Social
Ankama
How we helped a video game publisher launch international communications for its new game on social media
Founded in 2001, Ankama is an independent French digital creation group specializing in entertainment (video games, animation, publishing, board games, etc.).
The challenge
As Ankama is very well known in France, but less so internationally, the group wanted to implement a strategy of visibility and acquisition among an international community as part of the release of its new video game WAVEN.
The project and its results
Ankama initially asked us to help them recruit local Community Managers (CM) in key markets: German, American, Spanish-speaking and Brazilian. We supported them in identifying qualified profiles and in the recruitment process.
For the launch of international communications, our Strategic advisory and Social media teams held a workshop with the Ankama teams to perfect the support strategy that would meet their needs in the various target markets: USA, Brazil, Latin-America, Germany and France. We produced master editorial planning in English on 4 channels (Instagram, Facebook, TikTok and X), which will then be adapted in all markets by local CMs.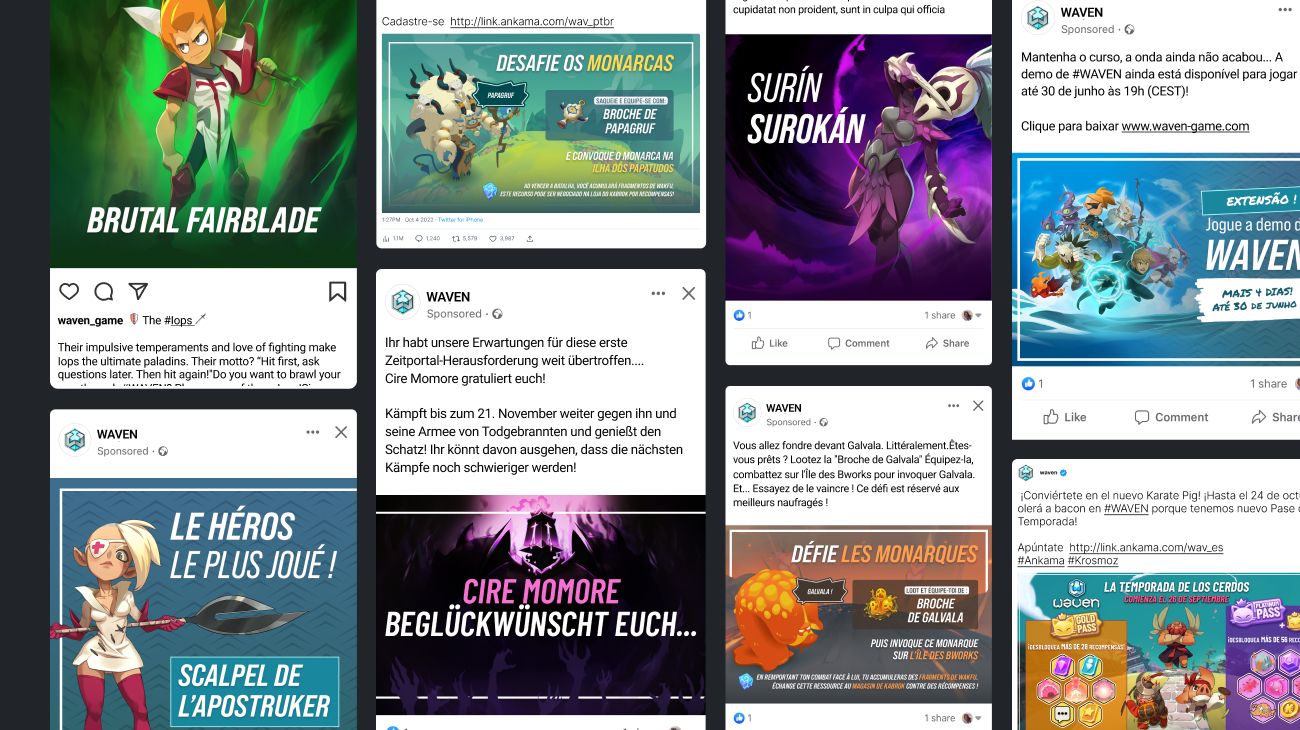 In order to provide relevant content for the game, depending on the channel and audience, we produce all visual creations in 5 languages for all markets. In order to centralize exchanges on the many subjects and issues at stake, we have a weekly call with the key entities working on the communication and marketing aspects of the game.
To monitor performance by channel and by market, we deliver Social Media and Social Listening reports, enabling us to analyze the type of content that works best, the key topics and the impact of the game on players.
In order to convey the transparency and proximity of Ankama's DNA, while at the same time showing the human side that is so present and important at Ankama, we filmed content on the company's premises, interviewing the various Business Units that worked on the development of Waven.
0target markets: USA, Brazil, France, Germany, Latin America
0xnumber of followers in 5 months (Sept. vs. April 2023)
0m%increase of social shares by 33,256% (Sept. vs. April 2023)
0Mimpressions in 5 months